A weekly review of commentary and perspectives about COVID-19 implications on communities and places.
This week's topic is transportation.
One of the more visible signs of the pandemic is the dramatic reduction in traffic and air pollution.
"According to the study conducted by mapping software and transportation analytics company INRIX, enough to speed up travel into the core of Chicago by 77 percent and Los Angeles by 53 percent. The study, which examined average travel speeds in 25 of the country's most populous cities during the week of March 11-18, found increases in travel speed ranging from that 77 percent figure in Chicago to a mere 16 percent in Atlanta (Source: Next City, March 25, 2020). "
INRIX's U.S. National Traffic Volume Synopsis: Issue #5 (April 11 – 17, 2020) shows the dramatic reduction in passenger vehicle travel.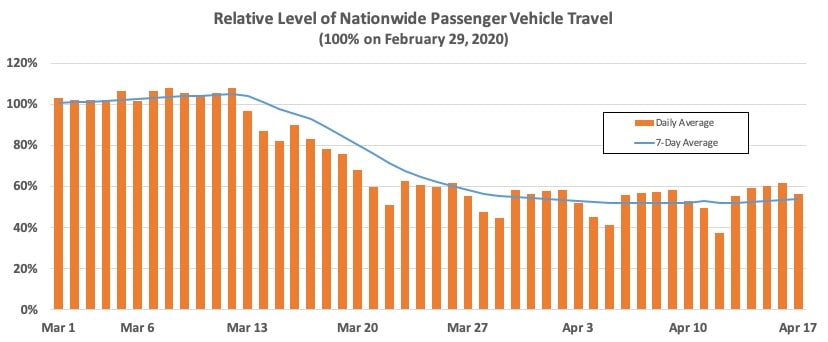 Google provides community mobility data by states and counties – Google Community Mobility Reports
With reduced traffic and congestion, there is a resultant drop in air pollution, evident around the world. Here is a comparison from Italy, March 2019 versus March 2020.
With reduced activities, other elements of the environment has also improved as seen in  Venice.
So what does this mean for the future?
Here are some perspectives and aspirations, knowing we are in uncharted times.
How Is the Coronavirus Pandemic Affecting Climate Change? Wired, Matt Simon, April 21, 2020
Here is a series of commentaaries,  summarizing a number of impacts from the current pandemic, with some surprising implications, good and bad. No conclusion about these implications is final, as research continues. 
"It is the novel coronavirus SARS-CoV-2, and it is climate change. The two are intimately linked: As you'd expect, emissions have fallen as people drive less and industries grind to a halt. But dig deeper into how the pandemic is influencing the climate, and surprising and often counterintuitive dynamics begin to emerge. This is your guide to those complexities."
Forbes, April 10, 2020, How Clean Air Cities Could Outlast COVID-19 Lockdowns, Tamara Thiessen
This provides a number of takeaway lessons from cities around the world about maintaining lower traffic levels and emissions.
"In a word: cut car dependency, increase bike-walk commutes. telecommuting, renewable energy and post-car cities."
The Guardian, Milan announces an ambitious scheme to reduce car use after lockdown, Laura Laker, April 21, 2020.
A specific and ambitious plan by Milan, the epicenter of the COVID in Italy, to maintain and expand  reduction of car use and traffic. Note Milan's population is 1.4 million and transit use at 55 %.
"The Milan plan is so important is because it lays out a good playbook for how you can reset your cities now. It's a once-in-a-lifetime opportunity to take a fresh look at your streets and make sure that they are set to achieve the outcomes that we want to achieve: not just moving cars as fast as possible from point A to point B, but making it possible for everyone to get around safely."
When the World Stops Moving, CityLab, Laura Bliss, March 19, 2020
This commentary discusses the positive effects of traffic reduction and auto emissions, but conversely, the significant negative impact on transit use and their fiscal survival. 
"Transit is in a perilous position. In addition to signaling the economy's screeching halt, bottomed-out ridership threatens to destabilize a critical industry."

"Such a scenario would impact millions of people who rely on public transit to get to work, school, and other essential activities. It would also be really bad for the environment; in the U.S., vehicle emissions already make up the majority of atmosphere-warming greenhouse gases."
Speeders Take Over Empty Roads — With Fatal Consequences, Stateline, an initiative of The Pew Charitable Trusts, Jenni Bergal, April 20, 2020
Another perhaps untended consequence that I notice in my community – speeding, particularly ominous, as pedestrian/cycling fatalities have been rising the last several years. 
"As Americans remain at home, many roads in cities, suburbs and rural areas are practically deserted. But the absence of traffic is a seductive draw for one type of driver: speeders."
So the new "normal" transportation is not known, other than there will be a profound change to our mobility. Stay tuned for updates. 
David