There have been many articles and examples documenting how cities across the world have expanded bike/pedestrian facilities and open space as a remedy to COVID quarantine and isolation. See my May 10, 2020 post Walking Out of Isolation.
My ( and others) concern is will this trend continue, given the recent increasing infection rate in the US and the devastating impact on government budgets.
A June 15th CityLab post How the '15-Minute City' Could Help Post-Pandemic Recovery begins to answer this question in the context of economic, environmental sustainability and now to the forefront , systemic racism and equity.
Backgroud
Cities and communities will suffer immense fiscal losses from the pandemic. But an international coalition of cities believes that "funding green stimulus plans focused on job creation" is the key and that "cities are the "engines of the recovery," and investing in their resilience is the best way to avoid economic disaster."
C40 Cities , Gobal Mayors COVID-19 Recovery Task Force proposed a series of plans and policies, specifically:
"a green prescription for financial stabilization that emphasizes several familiar pillars of progressive urbanism — renewable energy investment, energy-efficient buildings, improved mass transit, and spending on new parks and green space."
The 15 Minute City
One specific recommendation is "all residents will live in 15 minute cities". Paris is then cited as an example for implementation of this goal. The Mayor stated "Parisians should be able to meet their shopping, work, recreational and cultural needs within a 15-minute walk or bike ride."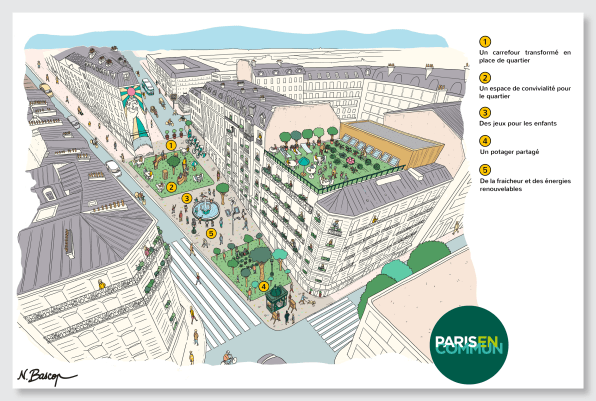 While a laudable goal, my skepticism crept in . This is all about large urban centers, with perhaps a longer history and culture for biking, walking and better mass transit options than the US. This is somewhat mitigated because this is not a new concept, previously advocated by planning pioneer Jane Jacobs, and now by the New Urbanism movement and Strong Towns, among others.
Another hope for success for smaller communities – "……this 15-minute change is very doable in cities of any size. All cities have been disrupted, and there are shifts that everyone can make towards a better quality of life in their community."
Can it Work Here?!
Another burning issue – can this work in car dependent America? The article cites recent analysis that walkable communities "demanded 75% higher rent over the metro average in the nation's 30 largest cities, all while increasing equity and investment opportunities." (Soure: Foot Traffic Ahead, a collaboration between The Center for Real Estate and Urban Analysis (CREUA) at the George Washington University School of Business, Smart Growth America, Cushman & Wakefield, and Yardi Matrix)
Tyson's Corner, Virginia, initially a large suburban mall and office center, is now undergoing a transformation to a more mix-use residential community, adjacent to METRO, the regional rail mass transit system. It a long term project, but a real world re-development laboratory for more walkabilty, while reducing car dependency. Initial designs have been criticized for the lack of pedestrian accessibility and connectivity.
"It's not just a matter of adding bike lanes and wider sidewalks," she says. "There are lots of arterial roads there and, without real political trade-offs from local officials, and efforts to narrow streets and slow down traffic, it won't ever be truly walkable."

Emily Hamilton, director of the Urbanity Project at the Mercatus Center at George Mason University
So What's Next?!
The article concludes that the disruptions from COVID will spark long -term actions, even in the face of falling revenues:
"The speed at which pedestrian, biking, and scooter infrastructure has been ramped up during the pandemic shows how quickly things can change. Small tweaks to zoning or permitting for sidewalk cafes and cycling infrastructure can build momentum for larger shifts when budgets return."
For me this is crucial:
"A crisis does have a way of revealing what's already broken,". If cities aren't using the revealing nature of this pandemic, how it's highlighting disparities and racial inequities, shame on them. As difficult as it's going to be, it's a real opportunity."

Steven Bosacker, GMF Cities program for the German Marshall Fund of the United States
Can we do it? What do you think?